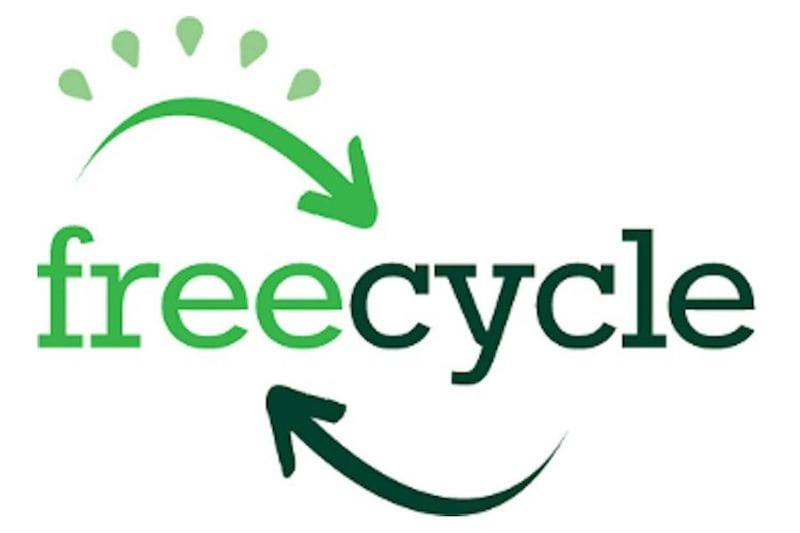 This article contains one or more affiliate links. We only link to things we support and think you could find useful. If you pay for something you clicked on in this article, we may get a commission as a result.
A few years ago, I heard about the website Freecycle from a co-worker (Thanks Tom!). Over the last few years, I've come to love this simple little site for its vision, its culture, and its (sometimes unintentionally) hilarious posts.
Whether you're playing the minimalism game or looking to frugally furnish your apartment for free, this is the place to go.
What Is Freecycle?
The Freecycle Network has been around since 2003, operating as a website that acts as an intermediary between people who want to get rid of their stuff and people willing to take it.
One man's trash is another man's treasure
Contrary to Craigslist, everything on Freecycle is free.
People write very simple posts of items they want to part with and members of the network get emails for all the items listed.
In addition, if someone is looking for an item, they can post a wanted ad.
There's a spirit around Freecycle that encourages sharing and keeping things out of the waste stream. Why throw away those VHS tapes when there's somebody who might actually have a use for them?
Why I Love It
We've used Freecycle on two occasions in particular.
The first time, we used Freecycle to give away our worm composter when we were selling our house and moving into our apartment. We received a dozen or so emails from people interested within the first day.
One of my favorite things about the Freecycle process is that you're encouraged to read all the emails and then choose who you most want the item to go to. You're not tied to the competitive finders-keepers attitude of Craigslist. You get to pick who you feel is most deserving of your item - which means you often get to hear a backstory.
Of all the emails we received, the one that stood out was a woman who had to give up her a worm composter when she moved to Wisconsin from New York City. She was looking forward to getting back into it and was really excited that our system was all set up with a happy family of worms :)
Our second experience with Freecycle was on the receiving end. We were working on our floor sleeping arrangements and stumbled across a posting on Freecycle for a queen-size Japanese roll-out mat. A college student was finishing up her schooling and no longer needed it. The mat was in amazing condition - all I had to do was make the 20-minute drive to campus to pick it up and we were good to go.
It's free, easy-to-use and you never know what you might find out there. We've seen postings for ovens, candles, 20 pounds of apples, trampolines and more.
Beyond this, there are some really random fun things you can find too. In just the last week, I saw a listing for 54 peach fruit cups. If you love peaches, that's a deal :) And then there was this gem: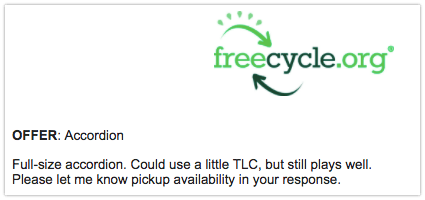 The Other Reason To Love It
The other reason I love Freecycle though is a bit different - because some of the postings are hilarious. Scrolling through my emails, it's not uncommon for Jaime to ask why I'm chuckling, after which I read out the post I was looking at and she starts shaking her head :)
Here are a few recent favorites:

It's free - check it out!
Whether it's for the free stuff you can find, the easy outlet to get rid of your unwanted items, or for the smile you'll be certain to get at least once or twice a week from funny postings, Freecycle is definitely worth a shot.
Have you ever used Freecycle to get something or get rid of something? If you're on Freecycle, have you seen any funny posts that you care to share?